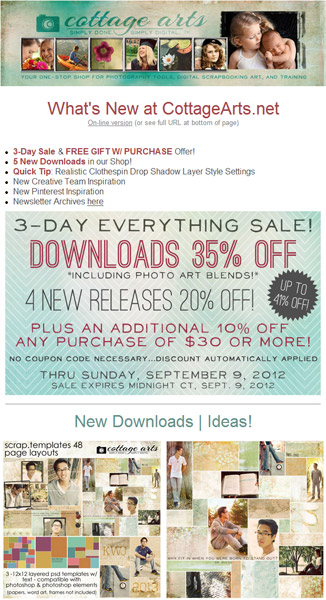 To subscribe to our newsletter, enter your
email address at the bottom of this page.
To unsubscribe or change your e-mail address,
see the link at the bottom of your newsletter.
Welcome to our FREE NEWSLETTER sign-up!!! We are excited to offer you our What's New Newsletters, popular since 2003.
In them you will find:
New Product Announcements

Special Offers

Free Downloads

Articles, Tutorials, and Layouts written/created by our talented Creative Team

Photography Quick Tips

Before and After Photo Enhancing Tips

We send out newsletters periodically

<<<<At left is a sample of part of one issue
**Please add sdnewsletter@cottagearts.net to your approved e-mail address list, to help ensure your spam-blocker will let our newsletters through.**
Your personal information and e-mail address will not be shared with anyone. For more information, please see our privacy policy.
For answers to your questions, see our FAQs.