Journaling plays a dual role in scrapbooking. First, it shares the message, and second, its character establishes a mood. Beautiful word art and creative journaling products are readily available to inspire you in telling your story.

In paper scrapbooking, lined journaling mats assist the storyteller to write in straight lines, while also adding a beautiful design element. It's the same with digital scrapbooking, with the exception that adding text to lined journaling mats is one more detail that adds a handmade charm, a look many try to achieve. Lined journaling brushes are also mega popular, and are similar to rub-ons or rubber stamps. At right, we used a journaling stamp from our Flourish Fabrications Element pak. Here are some products we carry with lined journaling graphics:

Below is a step-by-step tutorial and free download (using our Naturals 11 Paper Pak for the background) to assist you in learning how to align text on lined journaling mats or brushes using Adobe Photoshop Elements. See Michelle's article in Somerset Memory Magazine's April/May 2007 issue for more advanced typography techniques. See Michelle's tutorial on using digital brushes here .


Supplies: Naturals 11 Paper Pak (background & photo texture overlays), Nature's Garden Element Pak (hinge, stitching, metal bookplate, metal tag, bird & botanical sticker, Flourish Fabrications Elements (Journaling Stamp), Faith Journey Tags & Labels (collage tag on left, journey and hope labels), Naturals AlphaSet 4-Pak (today title),
Scrap.Edges 5 Overlays and Brushes (Photo edges)
---
It's fairly straightforward adding text digitally to a lined journaling mat or stamped brush with an image editor. For this tutorial we will use Adobe Photoshop Elements, however, other image editors utilizing layers are very similar.
1. Open Adobe Photoshop Elements.
2. Download our FREE Remember ScrapOver Template here (8 inches at 300 dpi: 8 MB). Unzip. Open ScrapOver Template. Open photos; size, and move into position. See our ScrapOver Tutorial here for more step-by-step instructions.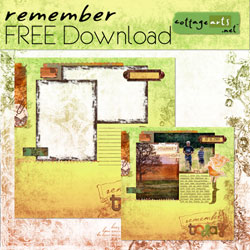 3. Click the Text Tool on the toolbar ( T ) along left side of screen, select a font and size to use for journaling (sample used Typewriter set to size 12 pt). Click the Text Color box and using the Color Picker tool click on any color in the layout you'd like to use for your text color (sample used color 4e2d23 to complement lined journal stamp).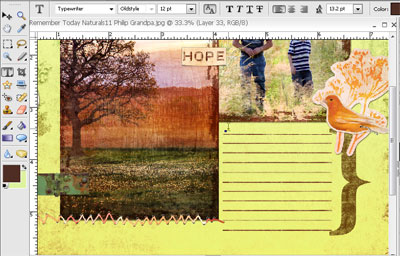 4. Make sure you have the top layer in the layer palette selected and mouse click on the layout where you want the text to appear (at top left of lined journal stamp). Begin to type your journaling, hitting return where you want line breaks (or draw a text box with PSE 5 or above). After you have a few lines entered, you'll need to adjust the leading (two stacked A's to the left of text color box on text options menu) in order to line up with the journal stamp. In my sample 13.2 pt aligned the text. It's really a trial and error process.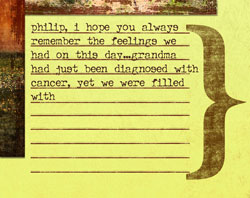 5. Adjust text position and size, if necessary. For my sample, I set to Left Justification to line up on right side of the photo and left edge of stamp (see text options menu above).
6. Save in PSD format to allowing future editing of individual layers. Print at high print quality on photo paper, in matte or glossy finish. You may also save in TIFF or JPEG format on CD and take to your local photo lab, or upload to an on-line print vendor. I
Below are other samples using lined journaling graphics. Click on them for enlarged view and details.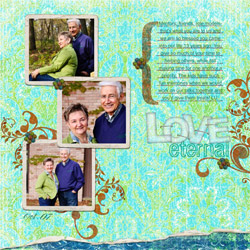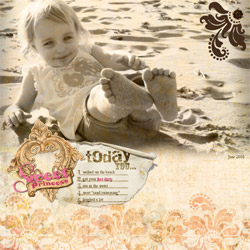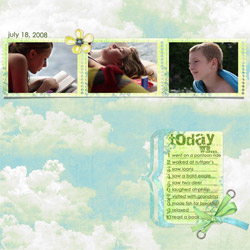 Typography Resources and Inspiration
Esperfonto Typeface Selection System