Using Simply Digital™ Background Papers with
Microsoft® Digital Image Pro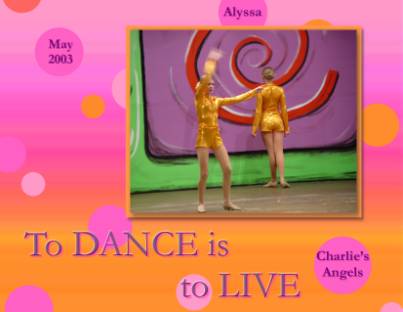 In this tutorial, we're going to step you through the process of starting with one of our background papers and adding elements to create a scrapbook page. You can also print the background paper from your digital imaging/photo editing software to use in traditional scrapbooking, if you desire, as the papers are in 300 dpi full-size .jpg format.
Hopefully, by the end of this quick lesson, you'll feel comfortable:
Using simply digital™ background papers

Creating a basic scrapbook layout in Microsoft® Digital Image Pro by doing the following:
Open Program and File:
Open Microsoft® Digital Image Pro

Open file: in this tutorial, we'd like to start with the background paper, "Rainbow Sherbet.jpg" on the Simply Fun CD in the 8.5 x 11 backgrounds folder (or download it from our free samples page). Click File/Open to select this file from the CD drive.
There are some new photo albums on the market available to showcase your landscape 8.5" x 11" pages, so let's rotate the background paper 90 degrees to create a landscape layout.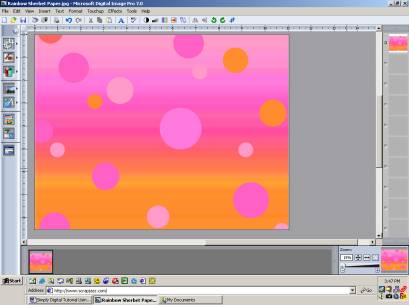 Save File:
It's a good idea to save the file to your hard drive at this point. Save image as .png (Picture It! PNG Plus) file to retain layers. This file is compatible with other digital imaging software packages, such as Adobe Photoshop Elements (however, the layers are flattened when opened in another package).
Add Photo:
Insert / Picture / From My Computer and select photo from your hard drive (or use other options for other devices such as your scanner).

Photo will appear in main window.

Click on bottom small image of background paper to make it the active image, then click on small photo and drag onto background paper in main window.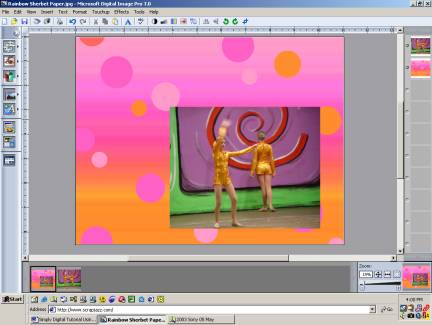 Create Photo Mat:
Click Insert / Shape / Rectangle and then using mouse, draw a rectangle approximately sized for your photo by clicking and dragging.

Change Color: Click on Effects / Fill with Texture or Color. Box will open on left side of screen with color options.

Select "more solid color choices" and custom color wheel will appear. Using mouse, move pointer to portion of background paper or area of photo you'd like color to mimic for photo mat.

Remove black outline around shape: Click on Format / Shape or Line / Line Thickness / None / Ok.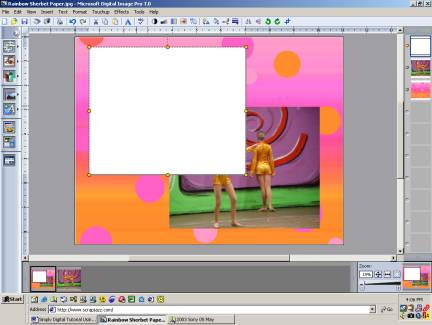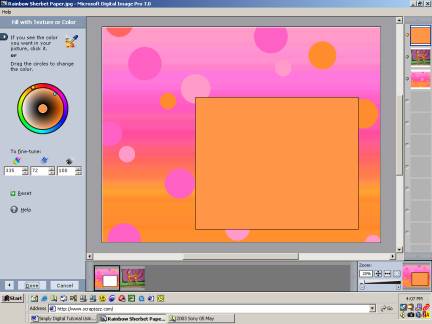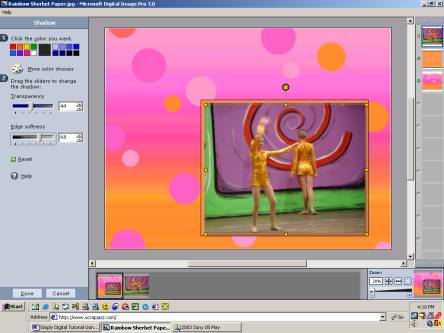 Group (Stack) Photo and Mat to move together:
Insert Text:
Click on the "A" in the menu bar to insert a text box, as shown below. Select preferred font, point size, and text color.

Enter text.

Repeat for individual journaling circles. In this example, we entered text in three of them.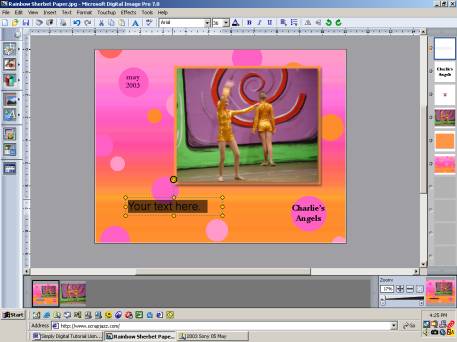 Add Drop Shadows:
To dress up the text, add drop shadows. For the title, we added a coordinating fuschia drop shadow, and for the journaling, lighter plum.

Click Effects / Shadow. A box on the left side of screen will appear.

In our example, we used a Drop Right Shadow.

Click on Customize Shadow and adjust Color, Transparency, and Edge Softness. See our settings below.

Repeat for Photo and all text layers by first selecting specific layer and doing steps described above.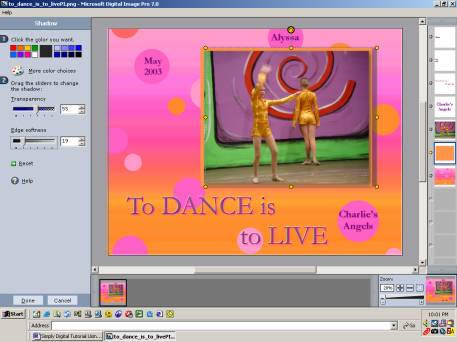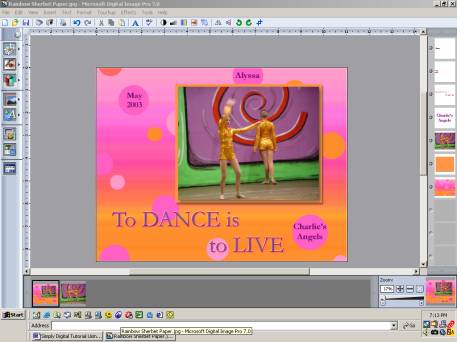 And, there you have it. A fun layout full of great memories in a matter of minutes. Great Job!
Now, just save final image again as .png (Picture It! PNG Plus) file to retain layers. If you open this file in another package, such as Adobe Photoshop Elements and the layers are flattened, save as a different name, so the layers will be retained for use in Digital Image Pro at a later date.