Creating Photo-Filled Text
using Adobe® Photoshop®/Photoshop Elements
(Corel® Paint Shop® Pro, Adobe® Photoshop® Elements, Corel® PHOTO-PAINT,
Ulead PhotoImpact 7 and higher, and Microsoft® Picture It!® Digital Image Pro would follow similar instructions)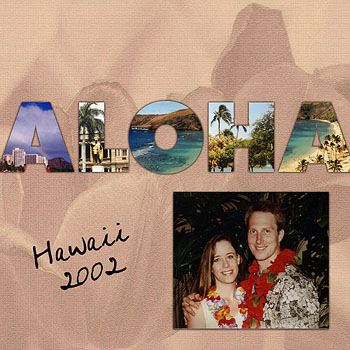 There are various ways to fill text with pictures, textures, etc. when working with digital media. This is probably the most straightforward, and probably the simplest, way. This layout and tutorial were created using Adobe Photoshop, however, Photoshop Elements would work exactly the same.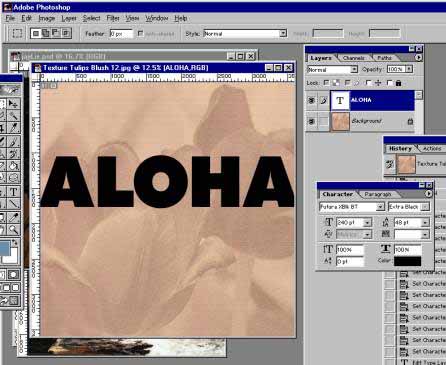 Choose a typeface that suits the style of your layout and affords you adequate space to display the photos or patterns you wish to use inside the letters. I chose Futura Extended Bold in this case because the strokes of the letters are very broad. The color of the type does not matter, because the type layer will not show in your finished layout. Position your type exactly where you want your picture-filled type to be located on the page.
<![if !supportEmptyParas]><![endif]>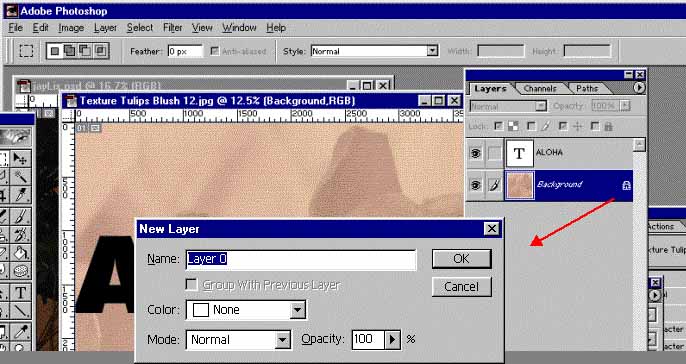 <![if !supportEmptyParas]> <![endif]>
When I opened the background paper in Photoshop, the layer by default is a 'Background' layer, which is locked. To unlock this layer for editing, double click the padlock icon on the layer. This will bring up the new layer dialog box. Clicking the 'OK' button on  this box will convert the layer to 'Layer 0' which is an unlocked, editable layer.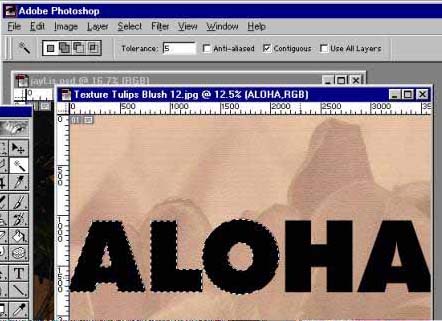 Using the Magic Wand tool, select each of the letters of the word. Holding the shift key down while you click each letter will allow you to select each letter, adding to – rather than replacing – your previous selection.
<![if !supportEmptyParas]> <![endif]>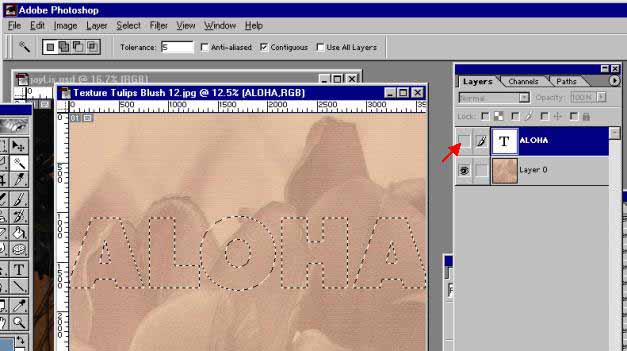 <![if !supportEmptyParas]><![endif]>
After you have selected all of your letters, turn off the visibility of your type layer by clicking the little box with the 'eye' icon in it. This will leave your selection visible over your paper layer – in this case, 'Layer 0'.
<![if !supportEmptyParas]><![endif]>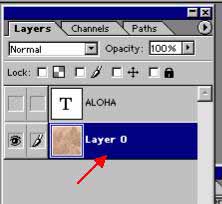 With your selection still active and your paper layer selected, press your 'Delete' or 'Backspace' key on your keyboard, or Edit>Cut (Ctrl-X). This will delete the parts of your paper layer within the selection, making holes in the shape of your letters, similar to a traditional paper punch (And, because this is digital, you don't have to worry about the middle parts of your letter A's and O's because they stay put!).

Press Ctrl-D (Select>Deselect) to remove the selection.
<![if !supportEmptyParas]>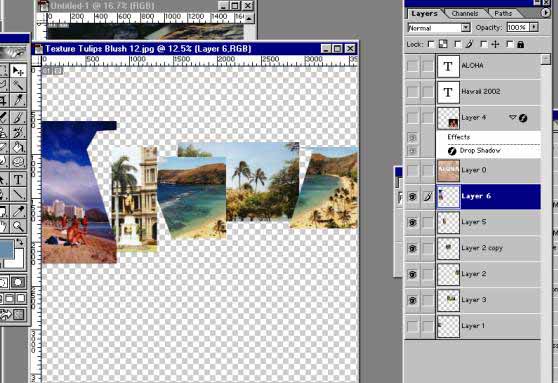 <![endif]>
<![if !supportEmptyParas]>N<![endif]>ow, you can just position your photos, textures and other papers on layers behind your paper layer, so they show through the holes. I'm showing you what the pictures look like with the paper layer turned off – so you can see that I've trimmed them to keep them from overlapping, but I did my positioning with the paper layer visible, so I could position the photos right where I wanted them.
<![if !supportEmptyParas]>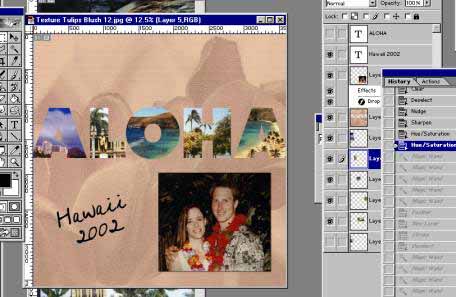 <![endif]>
Turn your paper layer back on, add any additional pictures and text you'd like on top of it, and you have a scrapbook page that looks like it took hours
If you'd like to see Melissa's technique for adding a drop shadow in order to make our photo-filled letters look like they were placed on top of the paper instead of behind it, click here.
Written by Melissa Prostrollo, Copyright 2003, CottageArts.net, All Rights Reserved.