Photo Free Layouts
Iíve been looking for a way to document my goals for 2004, as well as highlight the memories of 2003. Personally, I canít think of a better way to do that than with a photo free layout.
Iím sure some of you are trying to figure out why Iíd do photo free layouts, especially with all the pictures that are taken during the holiday season. I need a break from the pictures. I want to concentrate on all the thoughts in my head, everything that happened and will happen to me and my family; the things that I just wasnít able to capture on film (or a memory card in my case).
In my first layout, Iíve chosen to write a letter to my younger son, documenting his 2003. I tried to capture all his ďfirstsĒ in pictures, but it wasnít meant to be. I want Devin to know that while I may not have been able to freeze the moment for him to see, it is forever etched into my memory, as something I will always treasure.
To convey a more personal feeling, Iím using a handwriting font. Iíve picked Juergen Italic for itís slightly sloppy yet elegant look. Besides, itís one of my favorites!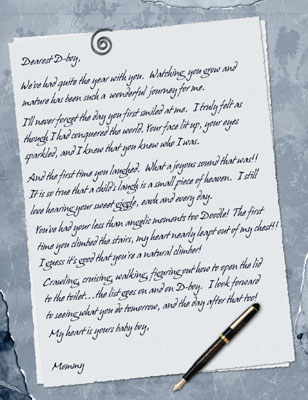 Old Torn Parchment: Simply Sampler
Spiral Clip: Simply Embellished
Fountain Pen: PSP Tube
Font: Juergen Italic
The New Yearís Eve after my first sonís birth marked a change for me. That was the last time I made a New Yearís Resolution. Ironically, itís the only resolution Iíve ever stuck with too! That year, I resolved: ďAfter this resolution, I will never make another resolution so long as I shall live, because I hate breaking them!Ē OK, so it was really corny, but it worked.
Anyway, since I donít make resolutions, I wanted to create a layout of the goals I have for myself for 2004. I want this one to be a bit more whimsical than the letter to Devin was, so Iíve chosen to use several fonts, in different styles, to convey my feelings regarding each goal.
Keep in mind that photo free does not mean image free. Use the available elements from the Simply Digital line, or grab a great piece of clip art from the net.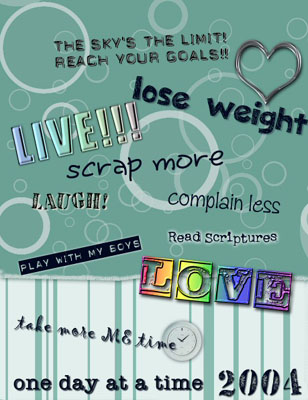 Bubble Bath Blue & Blue Stripes: Simply Fun
Silver heart frame: Simply Elegant
Fonts: LD Punch In, Punch Out, Sketch,
Royal Portable, Stencil, Letter Press Inverted
Gigi, Editor, Scrap Happy, Zipty Do Standard
Clock: PSP Tube
Liven up your photo free layouts by playing with the available effects in Paint Shop. For the words Live and Love on the previous layout, I added an inner bevel (Effects, 3D, Inner Bevel). I just played with the numbers and colors and available edges until I found a look I liked. Use gradients and patterns too! Text doesnít always need to be one solid color.
There are so many ideas out there for photo free layouts. Scrap some of your favorite recipes and menus, a story about your childhood or your even how you met your spouse. Document the things that move your heart without pictures. And most of all, have fun with it!!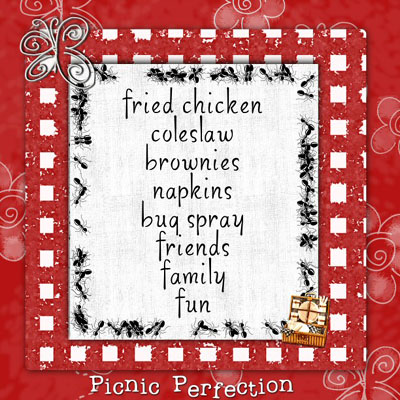 Big Checks paper, colorized, bright/contrast: Simply Sampler
Groovy Sponge paper: Simply Sampler
Butterfly Charm: Simply Sampler
Alien Skin Splat!: Resurface and Border Stamp (ants)
Picnic Basket: PSP tube
Fonts: Problem Secretary and 2 Peas Well Behaved