Using Scrap.Edges
with Adobe® Photoshop® Elements
(Adobe® Photoshop® would follow similar instructions)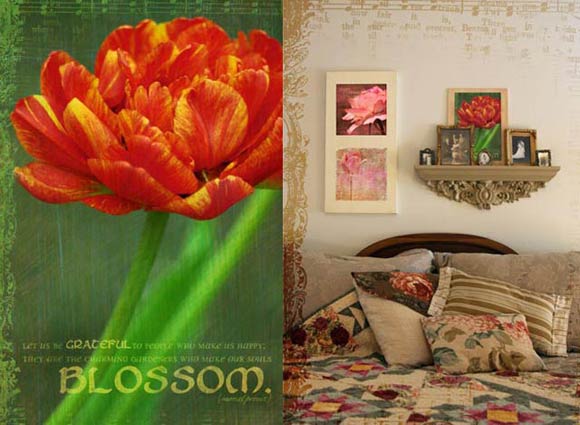 Photo art by Michelle Shefveland - Supplies: Naturals 7 Paper Pak, Free Scrap.Edge (link below)
Scrap.Edges
Our Scrap.Edges are artistic photo edge overlays and Photoshop Brushes, perfect for the scrapbooker, photo enthusiast or professional (see professional use license purchase information here)
Here are some examples of our different Scrap.Edges:
To turn a photo into a unique collage, follow the simple steps below.
Note: Instructions are in Adobe Photoshop Elements [PSE]. Adobe Photoshop CS+ and Corel Paint Shop Pro follow similar steps.

1) Download desired Scrap.Edge set or free CottageArtsScrapEdgeSampler.zip file. Unzip.

2) Open Photoshop Elements.

3) Choose File>Open and browse to find the Scrap.Edge file. Click Open.

4) Repeat Step 3 to open desired photo.

5) Drag the Scrap.Edge on top of the photo image.

6) Move and re-size the Scrap.Edge to fit the size of the photo using the Move Tool. Note that the free Scrap.Edge is in 4x6 proportions (at 300 dpi), but many will still look pretty good at other aspect ratios. Those with word art should not be distorted into other aspect ratios.

Your photo may look wonderful with the black edge. However, we are going to take it one step further and fill the Scrap.Edge with another color that's more complementary of the photo and then play with the Layer Blend Modes to add some unique color effects.
Note: for another method on changing color of black overlays see our tutorial here.

7) Click on the Foreground color Chip on the tool bar and sample a desired color from the photo. I sampled color # 4c641d.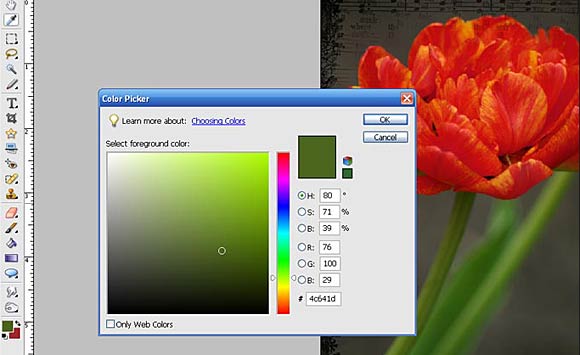 8) In the Layers palette, Ctrl-Click (Mac: Cmd-Click) with the mouse on the Scrap.Edge to Select the shape.
9) Select Edit>Fill and choose Foreground Color in the Fill Dialog. Click OK to fill the Scrap.Edge with this color.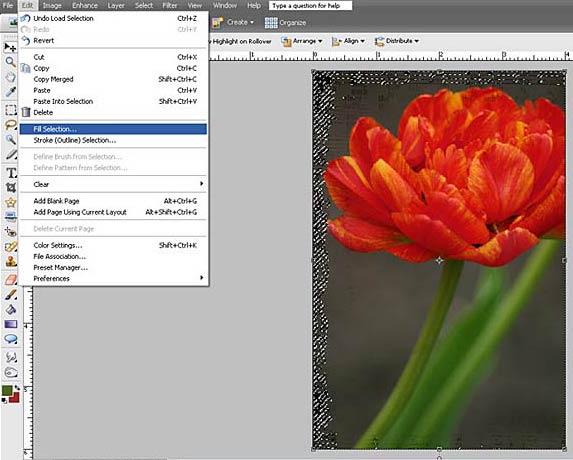 10) Repeat Step 3 to open desired paper for blending. Look for one with great texture or paint strokes. I chose #9 in Naturals 7 Paper Pak. Drag this paper onto the photo.

11) Add any desired text with Type Tool or pre-made word art.

12) Now, for the fun part! Play with the Layer Blend Modes on all of the layers in the Layers palette. I chose Overlay for the Paper layer, Screen for the Word Art, and Screen for the Scrap.Edge. I adjusted the opacity of the Scrap.Edge to about 75%. You can be so creative in this step. If you used a colored patterned paper as the texture overlay (mine was black and white), try removing the color or changing the color to see the different results.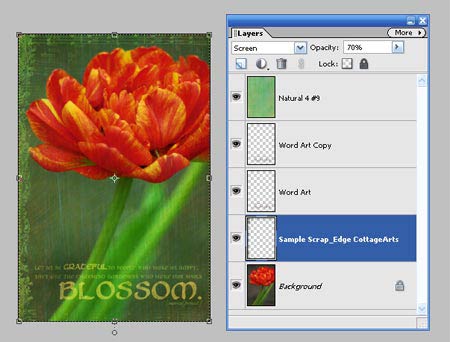 Save as a .psd to retain layers. Print at high quality on photo paper. Let dry one day. Mat and frame or adhere to canvas as I did above (shown on shelf above bed). Below are some other pieces I've created using similar techniques.
Bonus: to use our Scrap.Edges as a clipping mask to fill with papers, etc. see our tutorial here.