Digital brushes are likened to a paper crafter's rubber stamps, but with much more control and variability in their application. Some of our most popular brushes are the Scrap.Edges and Grunge Paints Series. Our brush sets include two formats: .abr Photoshop/Photoshop Elements brushes and .png overlays/stamps in black (for those who have a different image editor).

All sets of brushes at right are meant to be used as stamps that you "stamp" with your mouse or pen tablet on top of a photo or digital layout, but many brushes are made to use like a paint brush by dragging the mouse or pen. Brushes are different from overlays in that they have a more translucent effect and allow more control over the color/opacity/hardness when applying them.

The Grunge Paints Series is fun to use to create your own "painted" papers or grunge effects on layouts. Our Scrap.Edges Series allows you to add artistic edges to your photos or digital layouts. Paper scrappers can apply these edges before printing their photos and then adhere to their paper pages.

Below is some information on how to use brushes in Adobe Photoshop CS, CS2, or CS3, and Photoshop Elements 3+. See Michelle Shefveland's article in Legacy magazine's April/May 2006 issue for more advanced brush techniques with Adobe Photoshop Elements.


Supplies: Grunge Paints 1 Brushes, Scrap.Words - Inspiration
---
Downloading and Installing Brushes
Find a brush set to download. For this example, we chose our Grunge Paints 1 Brush Set.

After purchasing, download the brush set zip file and save to a folder on your system. See our download tutorial here.

Unzip the brush set with an unzipping utility, such as WinZip or Windows XP's extract utility. The brush files will be in .abr format.

Save the .abr file to the Adobe Photoshop CS or Adobe Photoshop Elements/Presets/Brush folder, which will be normally under C:/Program Files. These brushes should be compatible with Adobe Photoshop CS and above, and Adobe Photoshop Elements 3 and above.

---
"Stamping" with Brushes
Open Adobe Photoshop or Photoshop Elements.
Choose File>Open and browse your system for a photo to use. Click Open.

Select the brush tool from the toolbar (see image below left).

Select your brush set from the brushes drop-down box. Select Brush of choice.

Select your desired brush color in the foreground color box. We sampled a pink from the flower with the color picker tool.
Create a new Layer (Layer>New Layer)
Click on the paper or photo where you want the brush to stamp. For this large sized grunge brush, we stamped along the edges a few times.

Click on More Options flyout to adjust the angle of the brush when needing to stamp another edge. In this example we changed the angle to 90 degrees to paint the top and bottom edges.
Adjust opacity and layer blend modes, or even use the Eraser tool to further customize the brush painted layer.
Have fun! Our final result is below.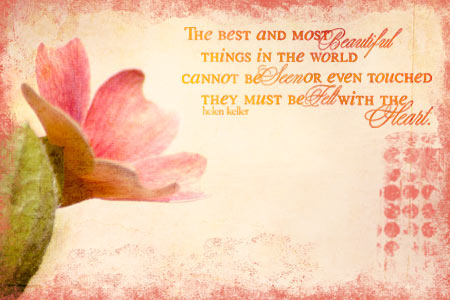 Photo by Michelle Shefveland
Supplies: Grunge Paints 1 Brushes, Scrap.Words - Inspiration
---
"Painting" with Brushes
Instead of stamping brushes with the click of the mouse, as described in section above, you can also drag the mouse or pen along, as if painting. This often works best with small brushes and by adjusting the Scatter and Spacing settings in the More Options dialog. Included with Photoshop/Photoshop Elements are an assortment of brushes that are made to simulate painting. While you may not want to paint a masterpiece picture, you may like to add some simulated chalking, inking or painting effects to your papers and embellishments. These effects look especially nice along the edges of photos or papers.
1. In Photoshop Elements (Photoshop is similar), click the Brush Tool on the toolbar to activate the brush tool.
2. In the Tool Options bar at top of screen, click the Brushes flyout arrow to see your brush sets. A good choice for distressing is the Wet Media Brushes, which come standard with Photoshop Elements or Photoshop (see image at right).
3. Select brush. For this sample, we selected Paintbrush Tool Texture Comb. For my 6 MP image, I set the brush size to 95 pixels.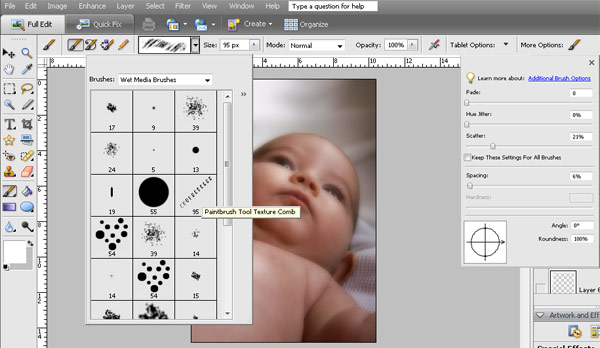 4. Click on 'More Options' flyout (see image above), and adjust the Spacing and Scatter settings for more variability in your paint strokes. We set Scatter to 21% and Spacing to 6%. The preview above on the tool options bar shows how the brush stroke is affected by your settings.
5. Create new layer to paint on (Layer>New Layer). Select color of choice in foreground color swatch (sample used white: FFFFFF).
6. Instead of stamping with the click of the mouse, as described in section above, you can drag the mouse along, as if painting or use your pen tablet.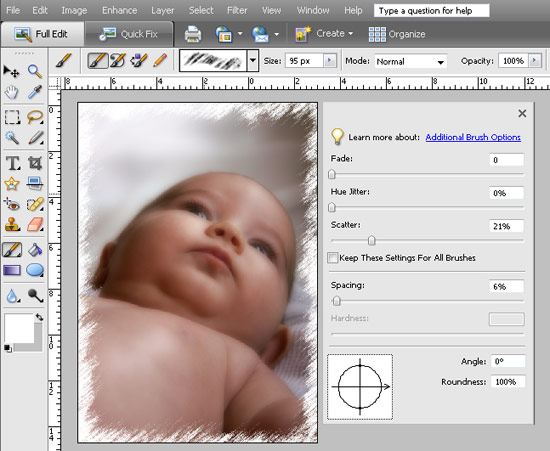 Optional: Adjust the opacity of the layer and play with the layer blend modes to see the different results possible.

---